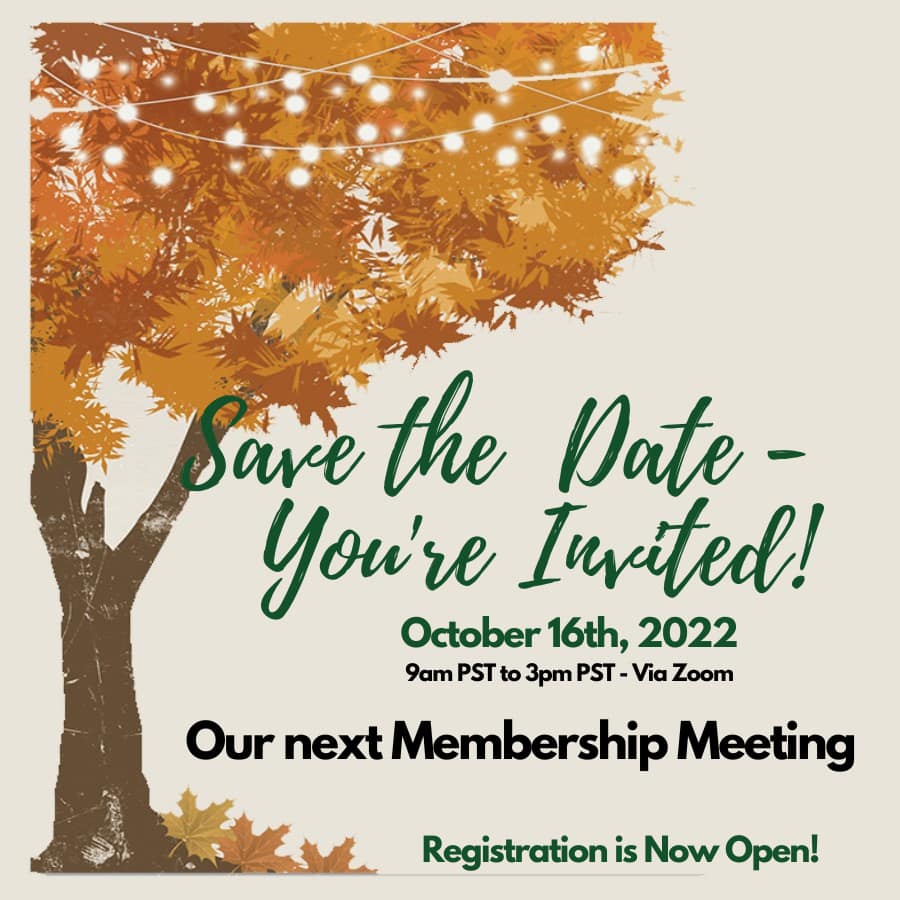 Sunday, October 16, 2022
9:00 a.m. – 3:30 p.m. PST
All are welcome!
The meeting will be live online via Zoom. We hope to see you. Let's connect, support, and continue the growth of our community!
Registration closes at 11:59pm October 15th so get your tickets now!
If you are already a member don't forget to login before you register!

Our October Membership Meeting will provide you with NCCAOM PDA/CE credits. We've been approved for 5.5 CE: 3 OM, 1 ACU, 1.5 BIO.
There are currently 3 speakers with 4 hours of lecture, plus Association news like Leslie's Update and updates on Microneedling, ARNP, PT, ND needling concerns.
WAEMA is inviting you to a scheduled Zoom meeting.
Topic: WAEMA's Zoom Meeting
Time: Oct 16, 2022 09:00 AM Pacific Time (US and Canada)
Join Zoom Meeting
https://zoom.us/j/95327968806?pwd=YU9MTUhXMlNDbFZGSkJid0ppbXEzdz09
Meeting ID: 953 2796 8806
Passcode: Fall22
If you need any assistance with login on the day of, please contact Chaiya at ASAP
SPEAKERS for Oct 2022 WAEMA Membership Meeting
1. Dr. Haitao Cao, of Texas Health and Science University, will be speaking on TCM and Weight Loss.
This two-hour presentation provides detailed information regarding epidemiology, etiology, pathogenesis, clinical manifestations, diagnosis, and treatment of over-weight, obese from both acupuncture and herb perspectives.  This presentation will be worth 2 CE.
Dr. Cao holds a Ph.D. from Shangai University of Traditional Chinese Medicine, Shanghai, P.R. China in Traditional Chinese Medicine with a focus in TCM Oncology. Her masters degress is from  Shaanxi College of Traditional Chinese Medicine, Xianyang, P.R. China in TCM with a focus on Gastroenterology. She additionally holds an MD in TCM from Shaanxi College of Traditional Chinese Medicine, Xianyang, P.R. China. She is currently an instructor and Clinical director of Texas Health & Science University, Austin, TX. Dr. Cao is the co-author of 10 peer-reviewed publications and has co-authored 3 textbooks on TCM.
2. Dr. Skye Sturgeon, of Mayway Herbs, will be speaking to us on boosting immunity from the TCM perspective of building blood.
This one hour presentation will reconnect us to the TCM concepts of Blood, Qi, Heat, and Wei just in time for the upcoming cold and flu season. This presentation will be worth 1 CE.
Dr. Sturgeon is a dedicated educator and proponent of TCM and Herbs. He earned his DAOM from American College of Traditional Chinese Medicine in Pain Management and is the former chair of Bastyr University and was Core Faculty at ACTCM. He has also previously taught at AIMC-Berkeley. With twenty-eight years experience as an acupuncturist, Dr. Sturgeon offers a strong background in biochemistry and toxicology.
3. Jungmin Ahn, MSAOM, EAMP of Silverlake Clinic, will be educating us on his knowledge and experience treating headaches with muscle, ligament, and nerve testing in combination with Acupotomy. Acupotomy is a certificate course from the Korean Medical Society. Mr Ahn will share with us how he uses specialized needles to unblock the blood and nerve pathways. This presentation will be worth 1 CE.
Mr. Ahn obtained his MSAOM from Bastyr University in 2008 and has a thriving clinic in the Everett area. He specializes in Pain Management and Stress Relief.