In a democracy, there is no stronger connection than between a legislator and the folks that live in their district, their constituents. It's time for all licensed Acupuncture and Eastern Medicine Practitioners (AEMPs) to contact their local legislators and help us Oppose Expanding the Scope of Practice for Physical Therapists to include Intramuscular Needling (Dry Needling) with insufficient training to adequately protect patients in Washington state.
The Washington Acupuncture and Eastern Medicine Association (WAEMA) is requesting that you please reach out to your local legislators to Oppose HB 1039 physical therapists performing intramuscular needling! The bill will now go to the House Rules Committee where it will get a vote to be pulled to the Floor of the House for all House of Representative members to vote. If it passes the House it moves to the Senate for another round of policy committees and floor votes.
How to contact legislators. While there are several ways to contact legislators, WAEMA recommends email communication. It's the most efficient use of your time, as well as your legislator's. The following is an overview on how to connect with your legislators, and some key messages that you'll want to personalize to fit your practice situation.
Find Your District will give you the information you need. Please use your residence address. The site will give you three names: two Representatives and one Senator. Clicking on each name will take you to the House or Senate webpage for members. Your particular legislator's name will appear at the top of the page. On the Senate and House legislator webpages, there is a notation next to each name that says "Email." You'll find it slightly to the right of the legislator's picture. When you click on that, it will take you to a webpage that will direct you to how to send an email. You'll be asked to verify your home address.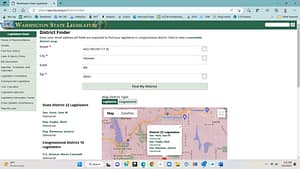 Please include the bill number, HB 1039. You'll fill out the subject line with something similar to "Oppose HB 1039 Physical Therapists Intramuscular Stimulation" and then provide your comments. Please be sure to check the box that says you'd like a response.
Key messages:
Physical Therapists are proposing 175 hours of trainingwith clinical experience at 25 patients over 12 months for needle practices with no prior medical training treating patients with needles. This is inadequate and unsafe.
Acupuncture and Eastern Medicine Practitioners (AEMPs) have over 2,000 hours of training and must pass a national examination through the National Certification Commission for Acupuncture and Oriental Medicine (NCCAOM) to practice dry needling, trigger point needling and other forms of needling on their patients, including point injection therapy and acupuncture.
Physicians and Advanced Registered Nurse Practitioners have a minimum of 300 hours of training to practice Medical Acupuncture. They have extensive medical training in treating patients with needles.
Carving out sections of the scope of practice for AEMPs and handing them over to western medicine practitioners creates a precedent that destabilizes the profession and practice of Acupuncture and Eastern Medicine in Washington State. Where does it stop?
The bill does not provide enough:
hands-on clinical oversight for a profession that doesn't learn needling as part of the routine educational experience.
specificity…the bill is too open. The language is vague – "dry needling" encompasses a lot of techniques (all of acupuncture, for example). "Trigger point needling" accurately reflects the technique sought after and is clear to the consumer.
professional limitations and competency testing need to be required to ensure good practices and safe patient interactions.
limitations to musculosketal or neuromuscular dysfunction, leaves the bill wide open to treating outside scope.
Thank you in advance for your willingness to help. This is important for the preservation of the acupuncture and Eastern Medicine Profession in Washington state. If you have any questions, please email  or contact our lobbyist/policy director, Leslie Emerick at  or Chaiya Sherman, WAEMA Board President at .